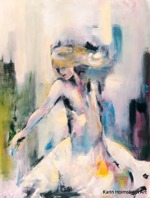 Söker du konst till ditt företag eller hem? Kika in i webshopen, se Gallery, hos galleri Lorentzon , via utställningar och i ateljen.

Karin håller även inspirationsföreläsningar, lyssna in på Sunshinepodden för inspiration. Varmt välkommen ta kontakt.

Del av försäljningen skänks till välgörenhet såsom cancerfonden och wwf. Holmström Art deltar regelbundet i olika välgörenhetsprojekt. Nyligen skänktes en stor målning till "Save the ocean" med the Perfect world foundation.